About Ann Kouwenhoven
Massage Therapy and Ajna Light Therapy
---
Ann is available at the centre Monday to Friday by appointment.
As a highly experienced practitioner and former clinic owner, Ann utilises many techniques to benefit her clients
Ann has always been passionate about helping people with their health and well-being, completing her first Diploma course in massage and health at the age of 17 in Denmark. Ann has completed many certificate and diploma courses in various massage techniques and modalities, and owned her own successful massage and health clinic for over 20 years. During this time she also taught myotherapy, remedial massage and reflexology courses, and presented many health lectures. Ann sold her clinic eight years ago and has been working in the medical field until recently.  
Ann works mainly with remedial massage including myotherapy trigger point pain release, integrating these with other modalities to apply what is best suited for the individual, looking at a person holistically by working with the physical body as well as with stored emotions. Along with remedial massage, Ann practises reflexology and Ajna Light Self Therapy.
Ajna Light Self Therapy
The Ajna Light is a highly effective and innovative device, which aids deep relaxation and guides you into a meditative state without effort. This Light Self Therapy (LST) works through brainwave entrainment using very powerful flickering light to open up and activate the pineal gland, providing intense meditative inner visionary experiences. 
It's benefits include: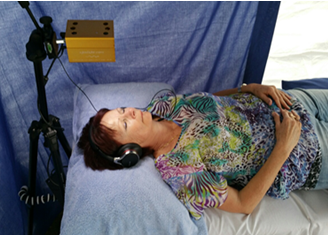 Deep relaxation
Self-healing
Effortless meditation
Access inner wisdom
Pineal gland activation
Reconnect/balance
Energy and well-being
Ann Kouwenhoven
Remedial Massage Therapist, Myotherapist
Dip. Remedial Massage and Health
Dip. Myotherapy Trigger Point Release 
Dip. Reflexology
Dip. Integrated Mind–Body & Nutritional Medicine
Cert. lll Sports Massage (Swedish / Relaxing Massage, etc.)
Cert. Medical Massage – Therapeutic/Shiatsu – Myofascial Treatment
Cert. Lymphatic Massage
Cert. Baby massage
---
Ann is available at the centre Monday to Friday by appointment.